AirmedScience's know-how
Extracting all plants benefits to serve animals performances
Concerned by expectations of its more demanding clients and consumers, AirmedScience implements the ancestral know-how of active natural components validated by modern science.
In its laboratories located in Brittany, its team of scientists works on complete solutions based on a perfect knowledge of how to extract and combine active principles of each herbal extract.
AirmedScience applies its expertise to every animal industry sectors around the world and distributes its products internationally, adapting proposed solutions to local reproduction issues.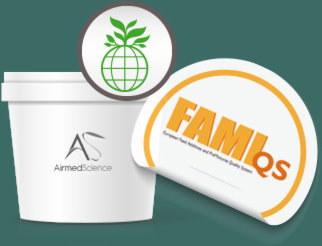 To garantee the quality and the traceability of its products, AirmedScience is FAMI QS (Europeen Feed Additives and preMixtures Quality System) certified, European code of good practice for the quality of additives and complementary feedingstuffs.
We support breeders from the delicate phase of insemination,
by proposing 100% natural solutions to promote animal fertility, during the gestation period, until farrowing and after, to reduce infectious risks


The use of AirmedScience products provide many benefits :
For breeders, by optimizing breeding conditions in compliance with Community directives on animal welfare and on release in the environment,
For the actors of the reproduction field, valuing their know-how,
For the farm's economy, through the significant reduction of care costs,
For consumers, assured of having food produced with practices decreasing the use of antibiotics.
AirmedScience also offers solutions "usable in organic farming" according to the European regulation on Organic Animal Productions, certified by a certifying body.